Pelaksanaan Belajar-Mengajar Dalam Situasi Pandemik Covid-19 di Sekolah Dasar dan Menengah Kota Kupang
Keywords:
Teaching and learning, media
Abstract
The purpose of this research is to know the process of implementing on-line teaching and learning in schools during the pandemic; the reason why schools do not yet have an on-line Learning Application; and the reasons teachers cannot use online learning media. This research can also provide input for schools in dealing with technological changes that are developing in supporting the teaching and learning process as well as in dealing with pandemic conditions like today.
The results showed that the implementation of teaching and learning is known that online teaching and learning and the use of applications and online learning media are in good category with an average percentage of 27.09%. It can be said that if the online Catholic teaching-learning process wants to run well, then the teachers are well prepared and equipped by the school, one of which is providing complete facilities for the online teaching-learning process, as well as providing regular training to teachers, especially in using applications. study. And teachers are also prepared through trainings to be able to make interesting teaching materials through electronic communication media.
References
Arif S. Sadiman. dkk. 2011. Media Pendidikan, Pengertian, Pengembangan, dan Pemanfaatannya. Jakarta: Rajawali Pers. Heinich, Robert. et al. 2005. Instructional Media and Technologies for Learning.
Arikunto, Suharsimi, Produser Penelitian, (Jakarta: Bhineka Cipta), 2006.
Cecep Kustandi & Bambang Sutjipto. 2013. Media Pembelajaran Manual Dan Digital. Bogor: Ghalia Indonesia.
Daryanto. 2013. Media Pembelajaran: Perannya Sangat Penting Dalam Mencapai Tujuan Pembelajaran. Yogyakarta: Gava Media
Danang Nur Cahyo. 2015. Pengembangan Media Pembelajaran Interaktif Komunikatif Dan Inovatif Untuk Pembelajaran Gerbang Dasar Digital. UNY. Yogyakarta.
Hadi, Sutrisno, MA., Metodologi Research, (Yogyakarta: Yayasan Fakultas Psikologi Universitas Gaja Mada), 1973.
New Jersey: Merrill Prentice Hall. Ariesto Hadi Sutopo. 2012. Teknologi Informasi dan Komunikasi Dalam Pendidikan. Yogyakarta: Graha Ilmu.
Noeng, Muhadjir, Metodologi Penelitian Kualitatif, (Yogyakarta: Rake Surasi), 1992.
Margono, S., Metodologi Penelitian Pendidikan, (Semarang: Rineke Cipta), 1996.
Rusman. 2012. Belajar dan Pembelajaran Berbasis Komputer. Bandung: Alfabeta.
Rudi Susilana & Cepi Riyana. 2008. Media Pembelajaran. Bandung: Jurusan Kurtekpend FPI UPI.
Sugiyono, Metode Penelitian Pendidikan Pendekatan Kuantitatif, Kualitattif dan R&D, (Bandung: Alfabeta), 2006.
________________, Metode Penelitian Kuantitatif Kualitatif dan R&D, (Bandung: Alfabeta), 2011.
Sukandarrumidi, MSc. Ph.d., Metodologi Penelitian, (Yogyakarta: CV Rajawali), 2002.
Internet
https://www.belajardirumah.org/2020/6-jenis-media-pembelajaran-mudahkan.html diakses pada tanggal: 27/10/2020, Pukul: 22.16
https://www.kemendibud.go.id/main/blog/2020/06/panduan-penyelenggaraan-pembelajaran-pada-tahun-ajaran-dan-tahun-akademik-baru-di-masa-covid-19 di akses: 16/10/2020, Pukul: 20:57 WITA
https://bkdjakarta.kemenag.go.id/berita/efektivitas-pembelajaran-daring-di-masa-pandemi-civid-19 diakases pada tanggal; 27/10/2020, Pukul: 22.05 WITA
Jurnal
Damianus, Gosta, Rustiyarso, Sulistyarini. 2020. "Pembinaan Religiusitas Kaum Muda Melalui Ekaristi Di Gereja Katedral." JURNAL PENDIDIKAN DAN PEMBELAJARAN KHATULISTIWA Volume 9.
Fransiskus, P. 2020. "Ensiklik Fratelli Tutti." Https://www.vaticannews.va/. 2020.
Vatican. 2021. "World Youth Day." Http://www.vatican.va/gmg/documents/i ndex.html. 2021.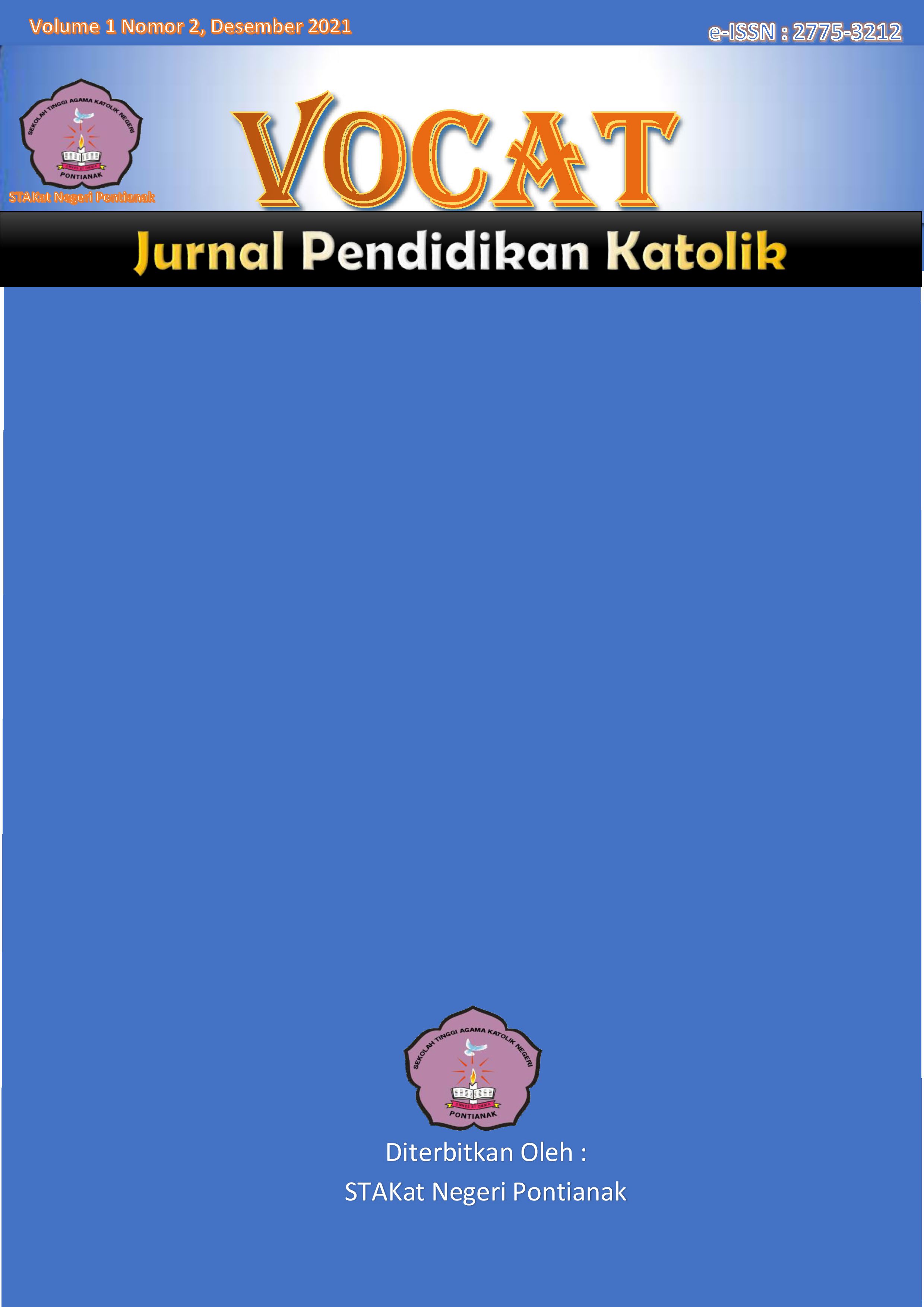 Downloads
How to Cite
Tinenti, H., Barek Ola, E. ., & Siono, Y. . (2022). Pelaksanaan Belajar-Mengajar Dalam Situasi Pandemik Covid-19 di Sekolah Dasar dan Menengah Kota Kupang . VOCAT: JURNAL PENDIDIKAN KATOLIK, 2(1), 17 - 24. https://doi.org/10.52075/vctjpk.v2i1.83
License
Copyright (c) 2022 Hemma Tinenti, Emilia Barek Ola, Yeremias Siono
This work is licensed under a Creative Commons Attribution 4.0 International License.